SALE


Bezig met laden...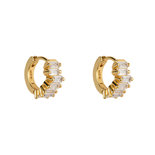 FRANKY The Joy Earring Gold
The Joy earrings are the perfect combination between elegance and beauty. All the diamonds placed in a unique way with the touch of gold brings a stunning shine to your look.
Joy is a dainty piece of sparkle and a special addition to any collection. When looking for something out of the ordinary Joy speaks for itself. The 925-sterling silver earring is plated with 18 karats of gold and the diamonds a true statement. With a diameter of 10 mm you will be able to mix and match and make stunning combinations.
– Perfect for gifting
– Made of 925 sterling silver & 18 karat gold

Material: 925 sterling silver/18k gold plated
color: gold
size: diameter 10 mm
weight: 1 gram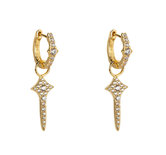 FRANKY The Lexy Earrings Gold
The Lexy Earring is a 25 mm earring with just the perfect size to make a subtle statement.
It can turn to be a total glamour look or just a fresh edgy feeling. It reminds of a shooting star, ready to take of into the world.
The 925 Sterling Silver with 18 karat of gold it is made for every mood and combination. The sparkle makes it go perfect with both gold and silver.
– Perfect for gifting
– Made of 925 sterling silver & 18 karat gold

color: diamond/gold
material: 925 sterling silver/ 18k gold plated, Zircona
length: 25 mm
weight: 1 gram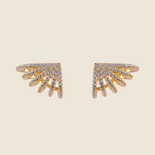 Frankyamsterdam the maeve earrings
These magical Maeve earrings will make all of their heads turn.
This extraordinary design is very recognisable and different from all the earrings you own. It is not a coincidence that the meaning of the name of these earrings is ''ENCHANTING''.
The Meave earrings are perfect for matching with other earrings, make it as crazy and bold as you want.
You just can't go wrong by wearing these majestic and elevated beauties. The shape of these earrings remind us of a crown and have a sense of royalty.
Feel like the main character of your own fairy tale.
Enchant the people around you by wearing these amazing Maeve earrings!
– Perfect for gifting
– Made of 925 sterling silver & 18 karat gold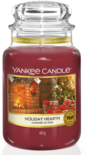 Yankee candle holiday hearth large jar
Geurbeleving: a cosy gathering by the fireplace, all decked out with festive d'cor. warm, spicy, and sweet, like the magic of holiday traditions.
| | |
| --- | --- |
| Vorm | large jar |
| Top note | anijs, kaneel, kruidnagel |
| Middle note | gardenia, cederhout, eikenmos |
| Base note | warme muskus, vanilleroom |
| Kleur | donker rood |